WordPress Vs Drupal Vs Joomla: Which is the best CMS Platform?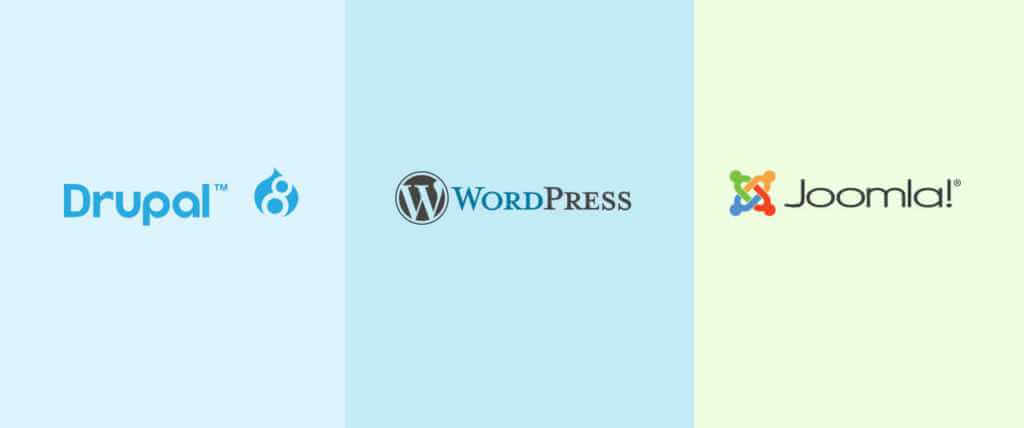 When it's time to select the best content management system for your needs, you have three main choices: WordPress, Drupal, and Joomla. These competing platforms all have their own unique attributes that make it difficult to decide which one to choose. In this post, we will go over the details of each CMS and make a recommendation for you in the end. Even if you don't agree with our recommendation, you can read on to learn the most important characteristics of the big three CMS options and make an informed decision based on your needs. Here is the pie chart showing the market share of different CMS's platforms:
You can clearly see that the most popular choice of users is WordPress, followed by Joomla!, and Drupal. Although all these CMS website development perform the same task to manage a website's structure, images, pages, and products in one user interface, these will define the website's future backend usability, scalability, and features.
WordPress, Joomla and Drupal all offer great features, tons of customizaions, ease-of-use, and strong security.
Oh yeah, all three are also free.
Choosing the right one can be difficult because they're all good options. In my previous post, I have discussed points to be undertaken to choose the right CMS platforms where you can choose the right one according to your needs.
But chances are, one of these three will fit your unique situation the best (whether that's firing up a simple business website or running a fully functioning social network).
Quick Overview:
WordPress – For a simple blog or brochure-type site, WordPress could be the best choice (while very friendly for non-developers, it's a flexible platform also capable of creating very complex sites).
Drupal – For a complex, highly customized site requiring scalability and complex content organization, Drupal might be the best choice.
Joomla – For something in between that has an easier learning curve, Joomla might be the answer.
Do You Actually Need CMS Or Simply a Static Website?
First of all, you need to find out that you need a CMS or a static website. The following flowchart will help you to find your actual requirement between CMS and Static Website:
Which one is the right for your needs? Read our in-depth review to find out.
WordPress (Best For Beginners)
WordPress is the world's most popular content management system. Mostly websites that uses CMS web development are running on WordPress. If that's not impressive, WordPress is also used on over 40% of CMS-based websites– leading the market of DIY CMS websites by a wide margin.

There are so many leading and well-known names, including NY Times, CNN, Mashable and others that use WordPress CMS development.
WordPress Pros and Cons
Pros:
Beginner friendly. WordPress is by far the easiest system for beginners to pick up.
Largest community. Makes getting help and finding themes and plugins easy.
Flexible. 45,000+ free plugins plus thousands more premium plugins make WordPress incredibly flexible.
No code knowledge needed. WYSIWYG customizers and plugins called page builders make it possible to design complex pages with no code skills.
Cons:
Doesn't always scale well. WordPress isn't great at handling huge amounts of content/data in comparison with Drupal/Joomla.
When it comes to learning WordPress, there are hundreds of websites that provide tutorials on all things WordPress. From basic how-tos to explaining WordPress themes to WordPress security tips — you can find a tutorial on almost anything.
Apart from that you can ask any query related to WordPress development issues and get an answer to your problem fair quickly.
WordPress is a great choice for starting your business website, especially if you're including a blog or additional functionality.
Joomla (Second most used CMS after WordPress)

Joomla is a powerful open-source CMS software that has been implemented on millions of websites the world over. Some of the popular names using Joomla are Cloud.com, Linux.com and others.
It's among the most powerful open sourced options available, which means it's learning curve is also a bit steeper.
Here's where Joomla excels:
1. It's a flexible and easy-to-use solution with a well-structured UI. However, it's not as simple as WordPress and one needs to learn things a bit.
2. Joomla too boasts of its strong developer community and which brings a host of plugins for custom developments.
3. Joomla comes with five types of extensions. These are components, templates, plugins, modules and languages. These extensions help develop custom websites, by choosing from different design elements, set of features and capabilities.
4. This is more capable for enterprise class CMS, with the powerful capabilities of handling content in bulk.
It's powerful enough to run most websites without any problems, and it doesn't require the same level of technical experience to run as Drupal either. Joomla also has a lot of plug-ins and themes available to choose from (around 6000 or so) similar to both WordPress and Drupal. So customizing the look and feel of your site shouldn't be a problem.
Drupal (More robust & Complex)

Drupal is the third most popular content management system available today, used by sites both large and small.
It's among the most powerful open sourced options available, which means it's learning curve is also a bit steeper.
Here are few more reasons Drupal might be ideal for you:
1. Drupal is very flexible, allowing to create simple blogs to powerful CMS for your websites.
2. It is very user-friendly and brings a lot of possibilities for the developers.
3. Drupal has been designed with the inherent benefits of SEO, and thus allows you to develop search engine friendly websites with strong SEO capabilities.
4. It is a scalable solution and allows thousands of users to access the content simultaneously without creating any issue.
But at the same time it comes out certain drawbacks: You need to have a strong coding foundation to learn using Drupal. It requires you to develop a deep understanding of its modules for integrating them in your website.
Anyone considering Drupal should have at least a basic knowledge of HTML, PHP and other common web programming languages. You don't need to be an expert necessarily, but being able to troubleshoot error messages and identify code problems will be a HUGE benefit.
Apart from that you can ask any query related to Drupal development issues and get an answer to your problem fair quickly.
It's Native and Most Wanted Support for HTML5:
Now all the problems for the HTML support are resolved. Drupal 8 comes up with its supportive features for the HTML5. HTML5 is the latest version that is being used as the markup language has been the prime concern for the developers. Now the developers can do it all with the fun function for website building putting in less effort.
Also, unlike WordPress.com, there is no option to have a website hosted by Drupal themselves. That means purchasing your own domain and hosting is required before getting started with a new Drupal site.
What's the Best CMS?
So, you can see that all three have their own set of advantages and disadvantages. However, their use should basically depend upon the type of goal you have to achieve on the web. More importantly, customization and SEO are the important parameters of measuring the success of a CMS.
Looking to get started quickly with a simple business website or blog? Look no further than WordPress.
If you have high hopes from day one that your site will grow significantly, requiring extensive features and unlimited customizations, take the plunge with Drupal.
Split between those two options, or need something unique like a social network or eCommerce site, Joomla might be the best bet.
All three platforms are free.
Tweet
About the Author
InsigniaWM is a professional Web Design & Development company based in Bhopal, India and serving best IT solutions to many clients across the world. We specialize in website designing, eCommerce, mobile apps, graphic design and brand identity.
Email the author: info@insigniawm.com